Men's Stand Collar Zipped Jacket: Casual & Stylish Outerwear for Any Occasion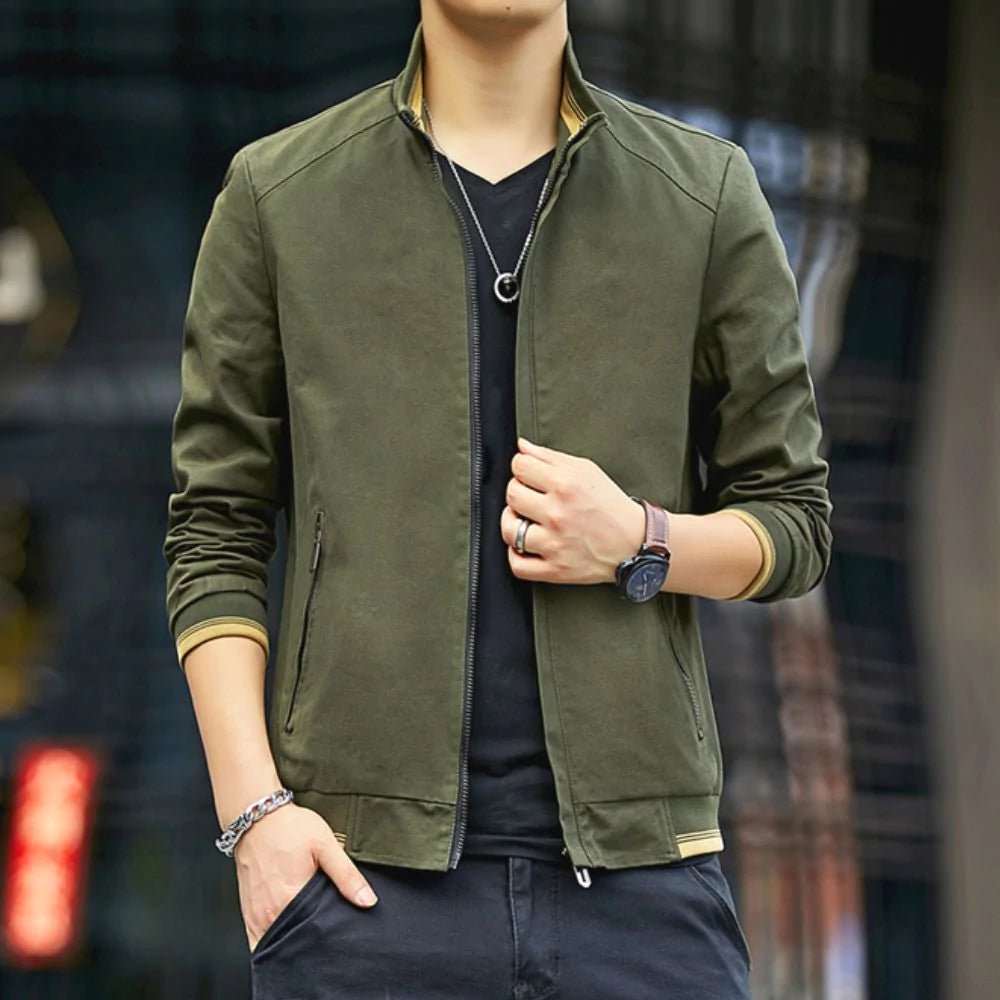 Introduction:
As the seasons change and temperatures begin to drop, it's time to invest in a versatile jacket that can be worn on various occasions while keeping you warm and looking stylish. The Men's Stand Collar Zipped Jacket is a perfect addition to your wardrobe as it offers a sleek design that can be paired with anything and effortlessly elevate your style. In this blog post, we will delve into the features of this fashionable jacket and show you how it can be your go-to outerwear for any occasion.
Key Features:
Tapered Shoulder and Ribbed Sleeves and Waist Details
The Men's Stand Collar Zipped Jacket boasts a tapered shoulder design, which not only adds a touch of elegance but also ensures a comfortable fit. The ribbed sleeves and waist details further enhance the jacket's modern look while providing a snug fit to keep you warm during those chilly days.
Durable and Comfortable Polyester and Cotton Blend
This jacket is made from a blend of polyester and cotton, making it durable enough to withstand everyday wear and tear while remaining comfortable for extended periods. The high-quality fabric ensures you can enjoy your jacket for years to come.
Slim Fit Design for a Modern Touch
The slim fit design of the Men's Stand Collar Zipped Jacket provides a contemporary touch to your outfit. Its tailored cut accentuates your figure, making you look polished and put together regardless of the occasion.
Stand Collar and Zip-up Closure for Added Warmth
The stand collar and zip-up closure offer added warmth during colder weather, while also lending a sophisticated look to the jacket. This design feature elevates the overall appearance of the jacket, making it suitable for both casual and formal events.
Available in Khaki, Beige, Black, and Green
The Men's Stand Collar Zipped Jacket comes in four classic colors – Khaki, Beige, Black, and Green – that can easily complement any wardrobe. Choose the color that best suits your style and make a statement wherever you go.
Comes in XS, S, M, and L Sizes
This jacket caters to a variety of body shapes and sizes, as it is available in XS, S, M, and L. With such a wide range of sizes, finding the perfect fit for your unique physique is a breeze.
Conclusion:
The Men's Stand Collar Zipped Jacket is the ultimate versatile outerwear that combines style, comfort, and functionality. Whether you're dressing up for a formal event or going for a casual outing with friends, this jacket is the perfect addition to any outfit. Upgrade your wardrobe with the Men's Stand Collar Zipped Jacket today and experience a world of endless style possibilities.