Embrace Your Inner Goddess with the Sexy Ruched Slit Maxi Dress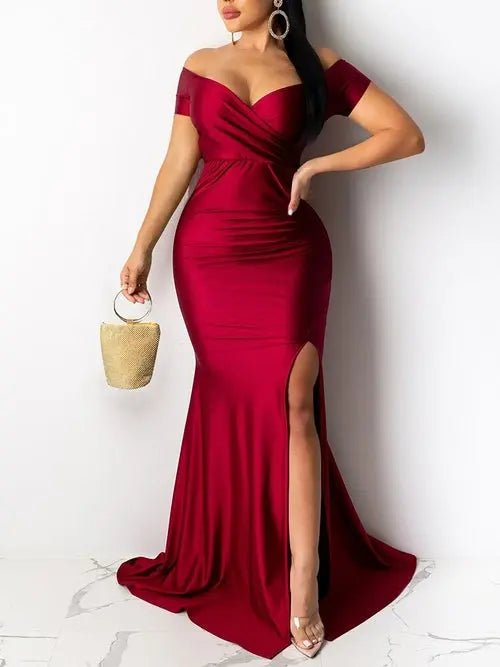 Are you looking for the perfect dress that will make you feel like a goddess? Look no further than the Sexy Ruched Slit Maxi Dress, available exclusively on MeirMall. This dress is designed to flatter your figure and make you feel confident and sexy no matter the occasion.
The dress features a stunning ruched design that hugs your curves in all the right places. The thigh-high slit adds an extra touch of sexiness, while the V-neckline accentuates your chest and draws the eye upwards. The dress is made from high-quality polyester and spandex, ensuring that it is both comfortable and durable.
Pair the Sexy Ruched Slit Maxi Dress with the V-neck Leopard Print Dress for a fierce and bold look. Or, if you prefer something more feminine, pair it with the Embroidery Flower Mesh Dress for a soft and romantic vibe. These dresses complement each other perfectly and will make you feel like a true fashion icon.
And the best part? MeirMall offers discounts at checkout, making it even easier for you to embrace your inner goddess. Plus, when you subscribe to our newsletter, you'll receive exclusive discounts and promotions that are only available to our subscribers.
So why wait? Add the Sexy Ruched Slit Maxi Dress to your wardrobe today and experience the ultimate in style and sophistication. You'll feel confident, sexy, and ready to take on the world. Order now and start living your best life.
Key Features:
Ruched design that flatters your figure
Thigh-high slit adds an extra touch of sexiness
V-neckline accentuates your chest
Made from high-quality polyester and spandex
Discounts available at checkout
Exclusive promotions for subscribers